Certification Help Center
Get help applying as a  certified military spouse-owned enterprise
Best in Class Application Experience
We have worked very hard to make your Military Spouse Owned Enterprise application best in class. We cherish feedback about your application experience, email us here: jchapman@milspousechamber.org 
Military Spouses Eligible for Certification?
In the spirit of inclusivity, a military spouse is defined (outside the confines of federal entities) as a current partner of a member of the U.S. Armed Forces including Active Duty, National Guard, Reserves and Veteran service members, we include Spouse Caregivers, Dual Military Spouses, and Gold Star Spouses.
Eligibility
To become an official Military Spouse-Owned Enterprise (MSEC) we need to make sure you're a legally registered business, and owned by a military spouse. We individually review each application to ensure you meet all requirements for your business before we grant approval.
To be eligible for the Military Spouse-Owned Enterprise Certification, a business must:
Must be a registered member of the U.S. Military Spouse Chamber of Commerce.

Be a legally registered business according to the local, state, federal, Host Nation (if OCONUS), and military installation where the business is located.

Be at least 51% owned and operated by a U.S. military spouse, or jointly owned by two or more military spouses.

If the business is owned by the military spouse and their veteran,  50/50% ownership is accepted, this includes current or former "dual military" couples.

The military spouse must manage daily operations and be a primary decision-maker for the organization.
The Process
Check out the image below for the 40,000 ft view of the process.
You will also want to view the detailed table including all the required documents for the application.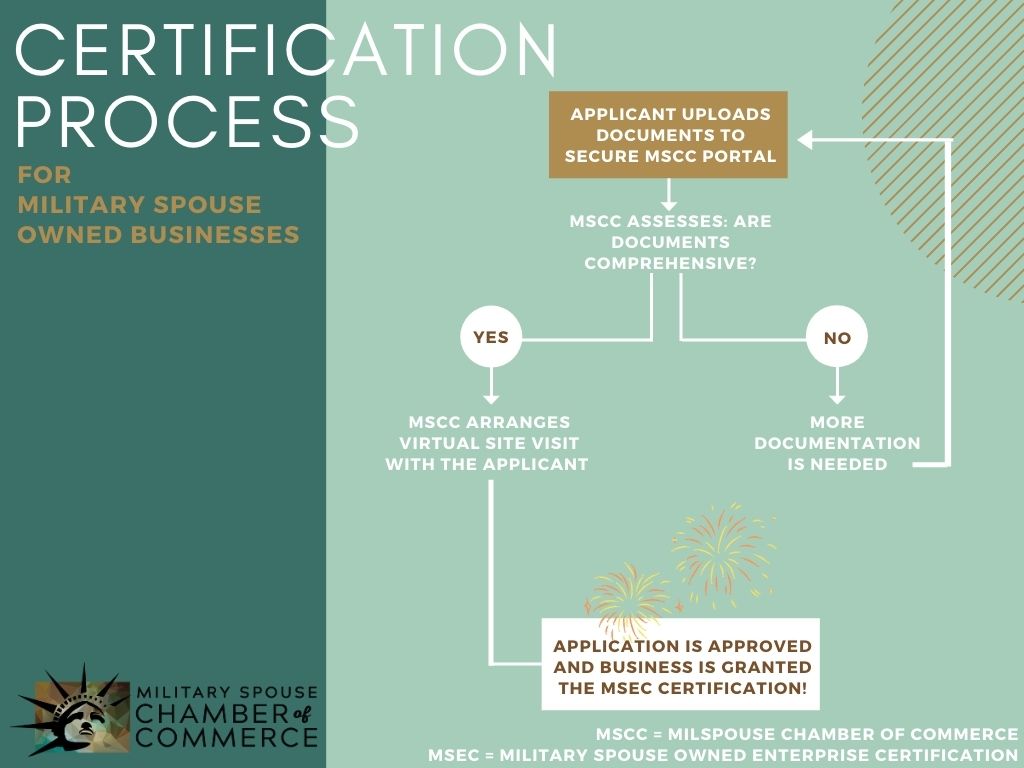 Small Business
Required Documents for Military Spouse Owned Enterprise Certification
Share the MSEC badge on your website, to build brand credibility and stand out to your customers

Evidence of Military Affiliation (Redacted copy of your spouse's military Orders, DD214 or similar document)

Evidence of Marriage (Marriage certificate)

State Formation Documents (Articles of Incorporation or similar)

IRS Employee ID Number (EIN)

Brief Business Description, History and Plan

Operating Agreement

Member List and/or Statement of Ownership

Professional and/or Business License Required by Law
Large or Publicly Traded
Required Documents for Military Spouse Owned Enterprise Certification
Share the MSCC badge to signal your commitment to corporate social responsibility and supplier diversity
Compete for B2B opportunities and stand out as a diverse vendor / supplier allowing your entity to track supplier diversity

Evidence of Military Affiliation (Redacted copy of your spouse's military Orders, DD214 or similar document)

Evidence of Marriage (Marriage certificate)

State Formation Documents (Articles of Formation or similar)

Operating Agreement

Statement of Ownership and/or Member List

IRS Employee ID Number (EIN)

Business Description

Brief Business History and Plan

Bylaws

Board of Directors or Advisors

Professional and/or Business License Required by Law

History of Business

Membership Agreement

Sworn Affidavit

Two references (work history – establish legitimacy of business)

Work history (past three years if available)

Bank Signature Cards

Affiliate / Subsidiary / Franchise agreements (if applicable) 

Evidence of Affiliation

Letter of Explanation – Ownership, Start-up, Transfer of Ownership (if applicable)

Applicable Operating Business Licenses / Permits

Partnership Agreements

Certificate / Articles / Charter of Incorporation

Minutes from latest BoD meeting

Statement from BoD Secretary certifying BoD

Voting agreements, warrants, stock options

Insurance Requirements

Stock Ledger

Use of Brand/Logo
Nonprofit 

— Additional Documents
Nonprofit organizations are not "owned" by anyone, but we recognize that many military spouses have founded and lead nonprofit organizations, and are proud to be recognized as a Military Spouse Led Nonprofit. *Nonprofit organizations require additional documentation. Please click here to see the list of nonprofit documents.
APPLY - Through Our Secure Portal
Our top priority is your security. You can rest assured our portal is safe and secure, using technology for file storage approved for use of sensitive document upload and storage in the banking and medical industries. Once we've reviewed and approved your certification, you can manage the documents stored in your acccount. If you have questions or concerns about your document upload, reach out.
*Review the chart and printable checklists below prior to uploading your documents.
Frequently Asked Certification Questions
Is this certification free?
No and yes. 
For the duration of 2021, all certification fees are generously provided by our sponsors Johnson & Johnson and National University.
Beginning in 2022, you will start seeing fees for this certification… So… we recommend applying now! 
What documents do I use to verify military affiliation?
We mimick the USAJOBS.gov process for your military affiliation documents.
We need a document such as a redacted set of orders, DD 214, or similar, PLUS a copy of your marriage certificate to verify that you are the spouse of a current or former service member. 
What is the "MSCC Data Agreement + Statement of Fact" document?
We require that you agree to our data usage terms for the MSCC application portal. 
Additional, we require a signed statement validating that all materials in your application are factual. 
You can view and download the document here:MSCC Data Agreement + Statement of Fact
Do I need to a Notary to sign the Statement of Fact as a witness?
No. On the section of the Statement of Fact that asks for a witness, you need just that a witness — an adult. You do not need to utilize a Notary Public. 
Is my information safe and kept private?
Yes. We utlize a SOC 2 secure document upload portal rated for use in the medical and financial industires.
During your application, you'll be asked voluntary self ID questions surrounding your personal and business demographic information. Your (voluntary) answers are utilized for research. Your individual name or business name will never be used. We compile the data collected into reports stating (an example) "Over 90% of certified Military Spouse-Owned Enterprises are owned and operated by females."
Do I have to be an LLC to apply?
No. 
We do not care how your business entity is structured (LLC, Corporation, Sole Proprietor, etc.).
We validate that you are a legally registered business entity in the area where you live including: your State, military installation and/or Host Nation, if applicable. 
May nonprofit organizations apply for this certification?
Yes. Since nonprofit organizations are not technically "owned" by anyone, your documentation should prove that the nonprofit was founded by, and is controlled by military spouse(s).
Nonprofits need to submit additional documentation found here: NONPROFIT CHECKLIST
How do I use this certification?
Here are some of the ways we've seen military spouses utilizing our badge:
Website footers and web pages
Email signatures
Capability statements
Social media campaigns
Social media and online profiles
Marketing and promotional materials
Power point slides
Resumes and cover letters
Applications for funding
Portfolios
Blog posts and press releases
Supplier portals and databases
Storefront windows 
Auto decals
Product packaging
Upon being granted the certification, you may proudly display the MSEC badge where you choose as long as you represent the Military Spouse Chamber of Commerce and our Military Spouse Owned Enterprise certification with the utmost level of integrity and professionalism.
Sneak Peek of the MSEC Badge
MSEC businesses recieve a color and greyscale badge designed for use online, and white version of the MSEC badge designed for storefront windows. Please do not utilize the proof images below. If you would like the MSEC badge, apply for the certification and you will receive the badge upon approval.