Have you met Lady Liberty?
We Have… And She is Awe Inspiring
"Liberty Enlightening the World" is an icon symbolizing freedom and enlightenment. She is adorned with a torch lighting the path to liberty and a 7 spiked crown representing freedom and her divinity that unites the seven continents. Her tablet of law is shaped as a keystone, an architechtural stone holding structures together. She is actively walking, wearing her broken shackles, leading us all to freedom. She is poised on a star shaped foundation, the remnants of Fort Wood a military fortess formerly protecting the bay from invaders. Lady Liberty symbolizes something different to all of us. A welcome to the United States, being freed from oppression, pride in being American, or something more.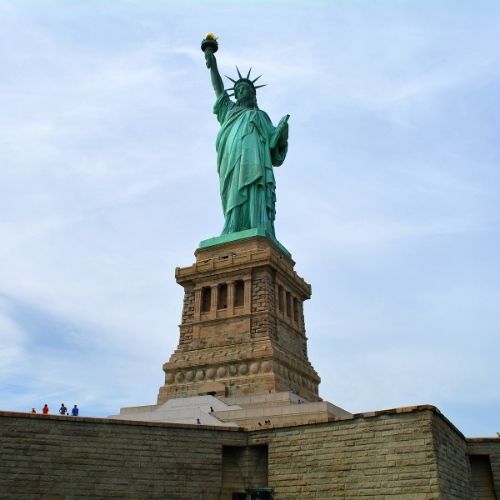 A brand is more than a logo and a color pallete, it evokes emotion, and a sense of identity. The Military Spouse Chamber is here to empower military spouses and to create a sense of belonging. 
Why We Chose Lady Liberty
The U.S. Military Spouse Chamber of Commerce is proudly "the home of military spouse owned business." — We wanted this organization to feel like home to military spouses… There is no better visual representation of "coming home" to a U.S. military spouse than Lady Liberty who has been welcoming people to America since her construction began in September of 1875. 
Our founders did a lot of brainstorming to nail down the feeling we wanted military spouses to feel when they discovered the Military Spouse Chamber. When Lady Liberty entered the conversation, it was unanimous to power full steam ahead with her as the centerpiece of the brand, inspiring her imagery and color scheme.
The first drafts of the logo were created by the military spouses at Cultivate
Creative
Design. Additional versions of the logo and the first drafts of the badge for the Military Spouse Owned Enterprise Certification were created by military spouse Erin Murray of
Lady Moxie Design
. Additional revisions and the addition of the "TM" were completed by military spouse graphic designer Stephanie Budd of
Pine and Pixels
.
With this incredible team of military spouses having created the brand, we worked with Intellectual Property Attorney and military spouse,
Claire Gibson
on securing the federal trademark registrations for the brands of the Military Spouse Chamber, as well as the Military Spouse Owned Enterprise Certification.
Home, No Matter Where You Live
As a military spouse business owner, we know you're traveling around the world in support of your service member's career. We are YOUR career home. No matter where you are in the world, the Military Spouse Chamber is here to support you in your business journey and to serve as an advocate for your needs.