Veteran Turned Military Spouse
Raquel Riley Thomas is an Entrepreneur, Pageant Queen, and Military Veteran turned Military Spouse. She is the owner of An Officer and Gentlewoman, LLC, a media and entertainment company, headquartered in Washington, DC. The company owns and operates the following brands: Miss DC for America, Mrs. DC America, Mrs. DC American, Little Miss North America, Maria Raquel Thomas Brand, SJ Savory Kitchen, AOAGWLLC Casting and Raquel Riley Thomas Beauty. Raquel is a decorated military veteran, having served nine years in the U.S. Army (5-years Enlisted photojournalist; 4-years Ordnance Officer) until 2002.
Raquel is married to West Point graduate Ron Thomas, Esq. with four children, a cat and six robots in their blended family. They are both former military having left the U.S. Army as Captains. He was a West Point graduate and her a ROTC graduate from Hampton University. Their friends call this dream team the real life Mr. and Mrs. Smith, based on the movie of the same name.
After hanging up her military boots, Raquel started her first business, Photography By Raquel, LLC. She photographed actors, celebrities, swimsuit centerfolds and more. She also signed to Elite Model Management and later Ford Model NYC as a commercial model. In 2010, Raquel decided to compete in a pageant to show her daughters a princess could look like them. She won the title of Mrs. Maryland America 2010. She went to the national level and won Mrs. America 2011 (1st RU), the first African-American to do so. She enjoyed pageantry so much that in September 2011, she started An Officer and Gentlewoman LLC, (AOAGWLLC) which owns and operates 8 brands under its umbrella, four of which are pageants.
With a flair for beauty and fashion, she is now a reoccurring segment guest on ABC, "Let's Talk Live", "Good Morning Washington and Fox5 "Good Day DC." She has been featured in dozens of newspapers and magazines such as Fitness, Washingtonian, G.I. Jobs, WashingtonLife, and Military Times, to list a few. On June 5, 2020, Raquel launched her new signature Raquel Riley Thomas Beauty Line using her 3GL Concept: Glamourous Lashes, Glamourous Lids and Glamourous Lips. They are cosmetic tools formulated to help women reach their ultimate glamour look quicker.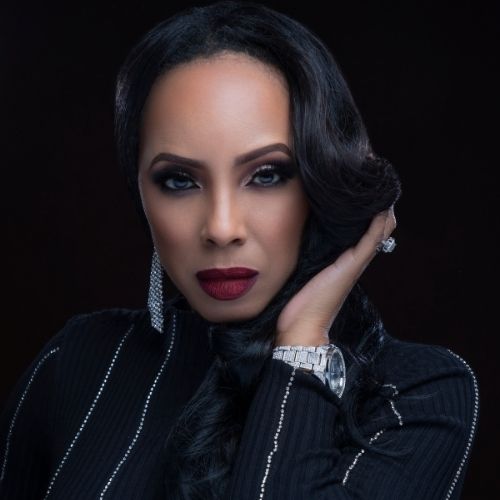 Community Comes First
Raquel is an alumnae of Hampton University. She graduated as a Distinguished Military Graduate from the Reserve Officer Training Corps at Hampton. She simultaneously graduated with a Bachelor of Arts degree in Psychology. She also has a Mastery of Negotiation certification from Harvard University. Raquel's accomplishments have been noted in both her military and civilian career. In the Army, she was awarded the Army Commendation Medal (2x) and the Army Achievement Medal (3x). Raquel was selected as the "Veteran of the Year" 2011, by Women Veteran's Rock. She was recently inducted into the Library of Congress under the "Veterans History Project" where her military history is now stored in video and pictures. Marquis Who's Who of America awarded Raquel their "Lifetime Achievement Award." Raquel was also titled a "Leader of the Future," by Ebony Magazine, Marquis "Who's Who of America," (5-consecutive years), and Washington Business Journal "People on the Move."
Raquel is involved in giving back to her community. She a board member on Mrs. America Ethics Committee and she is on the advisory board of the non-profit, Operation Renewed Hope. She is a diamond-life member of the non-profit Delta Sigma Theta, Inc. She is a member of Veterans of Foreign War and Veteran's In Media. A portion of her company's proceeds have benefited non-profits such as: Luke's Wings, Vet Sports, Operation Renewed Hope, Victoria's Voice, Standup for Kids, and No Kids Hungry, to name a few. She also supports the American Federation of Suicide because unfortunately, her mother took her own life in 2013. In honor of her mother, she started Queen V Day, a day in which she brings businesses together to pamper a deserving Veteran. In November 2019, a Veteran received over $7,500 in one day services. 
Raquel Riley Thomas Beauty is a black owned and Veteran-owned cosmetic brand that supplies a quick and easy solution to the way women apply and wear cosmetics. Today's women are balancing their personal, professional, and community lives at a faster pace and their makeup application should not slow them down. Army-Veteran turned beauty and fashion expert Raquel Riley Thomas produced the formulated concept 3GL: Glamour Lashes, Glamour Lids, Glamour Lips. By using Raquel Riley Thomas Cosmetics plus using this formula, glamourous looks are now easier and quicker. We also believe in protecting our planet. Our products are used on recycled paper and the products are Animal Cruelty Free.