2021… A Seat At The Table For Military Spouse Business
It's Time for Financial Prosperity
It is well known within the military community that 24% of military spouses are unemployed, with more than half being underemployed. Over 50% of military spouses turn to self employment during their careers. We saw a gap in B2B resources for to military spouse businesses and decided to create the Military Spouse Chamber to connect milspouse business owners to companies that want to hire them for B2B opportunity.
Financial stability is the crux of the American Dream, yet military spouses have fallen behind their peers in the rat race to get a slice of the pie. Despite have higher levels of education overall than the majority of the population, military spouses earn on average 25% less than their civilian counterparts. AND. Let's not forget that spouses fall behind because of the military lifestyle, and for supporting the service members who defend our freedom.
My vote? 
It's time for military spouses to make some money honey. 
Of Military Spouses Are Unemployed
Nearly Half of Spouses Turn To Self Employment
Business ownership is a REAL solution to the military spouse unemployment crisis.
When Stephanie Brown invited Beth Conlin and I to chat about founding a new Chamber of Commerce focused exclusively on U.S. military spouses… Beth said, "Doesn't that already exist?!… Why hasn't anyone done this?"
There is a Chamber of Commerce for every region, city, and demographic group out there, and with military spouses being around a million strong… this entity has been a long time coming!
Our team is comprised of military spouse entrepreneurs who are committed to empowering and advocating on behalf of military spouse business owners and opening the door for B2B enterprise. To learn more about our founding members and Board of Directors click here to read more.
Our mission is to ensure that all active duty and veteran military spouse business owners have the tools and resources they need to strengthen their families, communities, and our economy. We are the One Stop Shop for anything and everything a military spouse entrepreneur could ever need. 
People are making waves and driving solutions to military spouse employment. While MSCC does not affiliate with any political party or entity, we do recognize the legislation, initiatives, and efforts being taken by leadership at the local, state, and federal levels. There has been recent proposed legislation focused on reducing licensure reciprocity barriers, employment and hiring, retirement security, job continuity. and more.
Additionally, the private sector has rallied to support military spouses through traditional employment, project based work, and the gig economy.
We are working diligently to partner with corporations who are raving mad military spouse fans to establish B2B opportunity through the recognition of the Military Spouse-Owned Enterprise certification by MSCC.
To learn more about the Military Spouse-Owned Enterprise Certification, you can visit the link below:
Military Spouse Owned Enterprise Certification
Become an officially vetted Military Spouse-Owned Enterprise Certification (MSEC) through our proprietary certification process. Engage in B2B enterprise, recieve an MSEC badge, and get a seat at the table. Apply for your certification here.
But Wait… Who Are Military Spouses?
In the spirit of inclusivity, a military spouse is defined (outside the confines of federal entities) as a current or former partner of a member of the U.S. Armed Forces, including Veterans, Guard, Reserves, Active Duty Service Members and Gold Star Spouses.
Becoming a member of the Military Spouse Chamber is easy. If you are a military spouse considering entrepreneurship, business ownership, or freelancing as a career, join the Military Spouse Chamber today! You can click here to register as a member, it takes approximately one minute to sign up. If you are already a member, click here to log in to your account and access the exclusive free resources available only to our members.
Would You Like to Support Military Spouse Business? 
You Can Support Military Spouse Owned Business In The Following Ways:
1. Financial Support
You can give a financial donation that will boost our economy, literally the gift that keeps on giving. Your financial gift goes directly to the benefit of military spouse entrepreneurs. A typical Chamber of Commerce charges hundreds, if not thousands, in membership fees which sustain the organization. We want to remove all financial barriers for our military spouses. Click here to donate.
2. Hire a Military Spouse Owned Enterprise
By economically supporting a military spouse entrepreneur through B2B enterprise, you directly support the service member. Hiring an MSEC directly increases quality of life for our military families in an impactful way. Reach out to me if you'd like to post a project or opportunity to our Opportunity Board, and get directly connected to a military spouse owned business today. Email Jaime here.
3. Recognize The MSEC certification
We literally created "Military Spouse-Owned" through the first, only, and historic MSEC certification. Think "woman owned, veteran owned, or minority owned" enterprise… and now think "military spouse-owned" enterprise. YOUR company, whether large or small, can support military spouse entrepreneurs by accepting the MSEC certification, and tracking supplier diversity spend with the military spouse enterprises you hire or projects and opportunities. To learn more about recognizing MSEC, Email Jaime here.
4. Join the Movement
This is "2021 Year of the Military Spouse Entrepreneur" and you can join our team for the social awareness campaign to spread the word. You and your team can share online about military spouse owned business and the historic certification allowing corporations to track supplier diversity spend. We've made it easy to join the social awareness movement and drafted an entire press kit for your use outfitted with a press release, copy/paste @ tags and hashtags, a flyer, social media graphics and more. Get the press kit here, and be sure to use the hashtag #2021MilSpouseBiz on your posts!
Check out the magazine cover feature below from Military Families Magazine!
Military Families Magazine
2021 Year of the Military Spouse Entrepreneur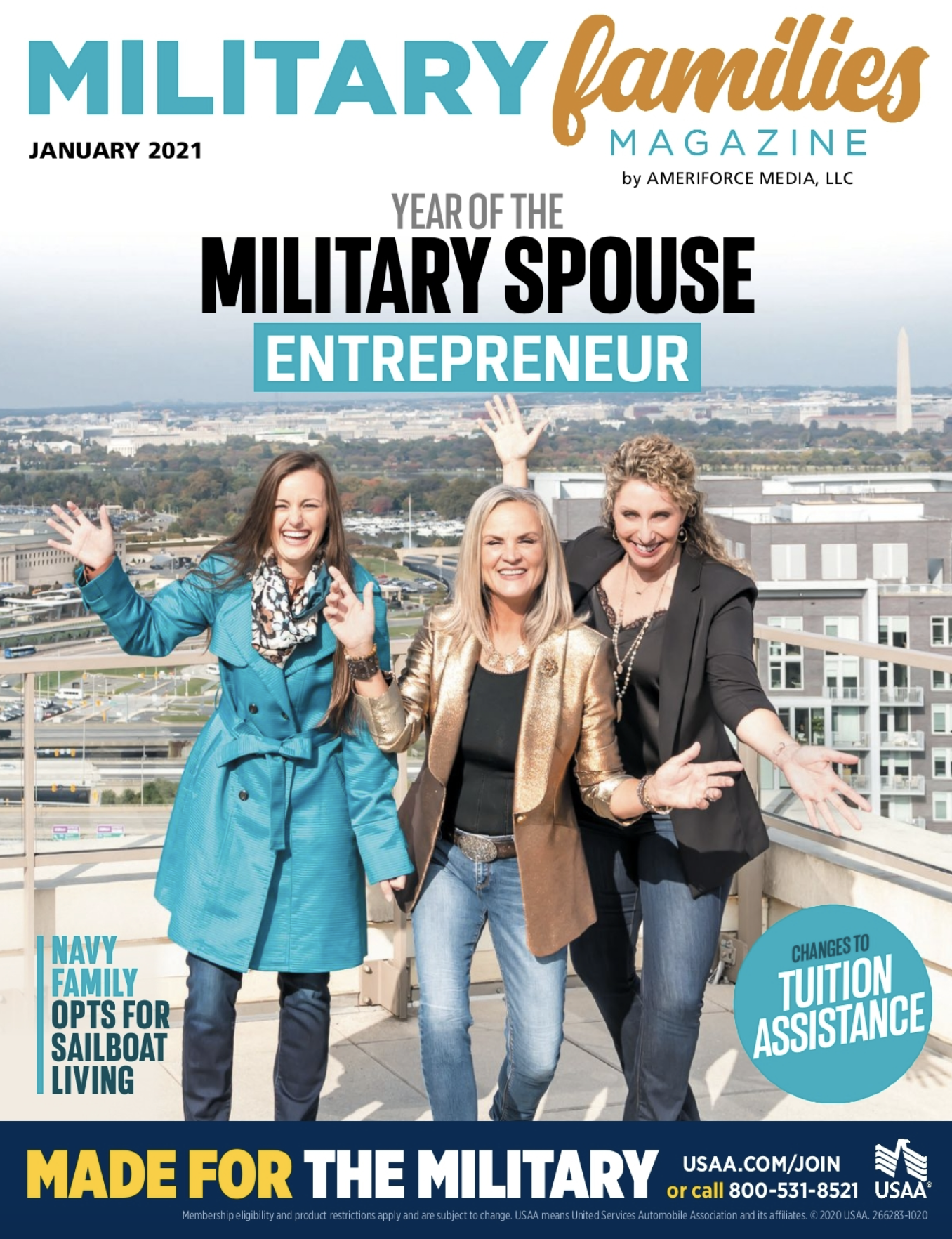 We would love your support to get the word out about military spouse owned business. Please reach out to Jaime Chapman if you want to get involved! To get involved, Email Jaime.